LOINC Community Mapping Repository
Tap into the wisdom of the LOINC crowd!
Regenstrief has built a community mapping repository that stores mappings of local test codes to LOINC codes and added some exciting features to RELMA that tap into that community wisdom.
RELMA shows how many others have mapped to a particular LOINC code and the names of those local tests/variables.
Plus, RELMA makes it easy to add your mappings into the shared repository so others can benefit from what you've done. We think these will be really helpful, particularly to novice LOINC mappers.
All you have to do to see these mappings is login to RELMA with your loinc.org credentials and they'll magically appear in your search results. Look for the ComMaps and ComInst columns.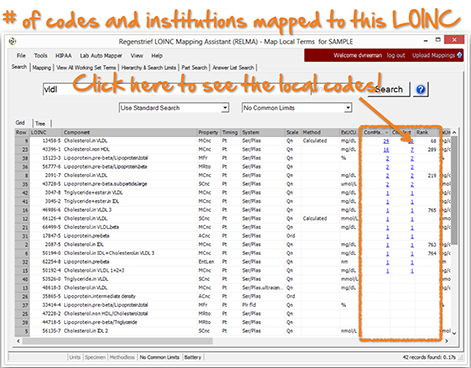 Have mappings of local codes to LOINC that you'd be willing to share?
The easiest way to get them to us is if you have done your mapping in RELMA. Once you've logged into RELMA, look for the "Upload Mappings" link in the upper right.
Don't use RELMA for mapping?
Export your local test of LOINC mappings into this template file and send it our way:

Download our template with the required fields
(Microsoft Excel)
Send your completed spreadsheet to: mappings@loinc.org